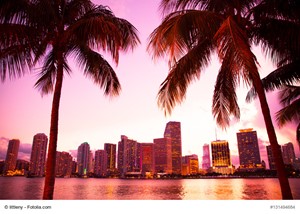 Florida is a wonderful place to call home, and for good reason. The Sunshine State boasts beautiful beaches in Miami, Fort Lauderdale and other cities and towns. Plus, Florida features Disney World, Sea World and other fun, exciting attractions that both kids and adults can enjoy.
Of course, let's not forget about the vast array of luxury homes across Florida, either.
There is widespread interest in Sunshine State luxury residences year after year. As such, there are many reasons to consider listing your Florida luxury home today, and these include:
1. You may be able to earn a substantial profit on your house.
Regardless of whether you own a luxury home just outside Tampa or in the middle of South Beach, you're sure to find plenty of interested homebuyers as soon as your residence hits the real estate market. Thus, you may find that you can turn a significant profit on your Florida luxury house.
If you decide to list your Florida luxury home, it is important to plan accordingly. And with a real estate agent at your disposal, you can boost the likelihood of maximizing the profit on your luxury house.
A real estate agent understands the ins and outs of the Florida luxury housing market and will help you map out a fast, seamless home selling journey.
For example, a real estate agent will know how to promote a Hialeah luxury house to the right homebuyers, at the right time, every time. Or, if you are uncertain about how to price your luxury home that is located near one of Miami's premiere beaches, a real estate agent can help you set a competitive price for your residence based on the current housing market's conditions.
2. You can move to a bigger or smaller Florida residence.
In some instances, a luxury home in Florida may prove to be too big. And in these cases, it may be worthwhile to sell a luxury house, optimize your profit and downsize to a smaller residence.
There is no shortage of high-quality residences available throughout Florida. In fact, these houses come in many styles, sizes and designs, which means you can find a top-notch Florida residence in no time at all.
Meanwhile, if you've grown tired of your luxury home and are ready for an upgrade, now may prove to be a great time to list your current luxury residence. By doing so, you can sell your luxury home and move into a bigger and better luxury house in Port St. Lucie, St. Augustine or elsewhere.
3. You can explore new opportunities.
Need a change from your current living situation? Sell your Florida luxury home, and you can pursue new personal and professional opportunities across the Sunshine State and beyond.
For instance, if you want to live close to family in Daytona Beach, you may want to sell your current luxury home that's located several hours away. On the other hand, if you've always wanted to live close to Kennedy Space Center, you can sell your luxury home and move to Cape Canaveral.
Clearly, there are many wonderful reasons to list a luxury home in Florida. Consider the aforementioned reasons closely, and you can make an informed decision about whether to add your luxury residence to the Sunshine State housing market.